REFURBISH & REPAIRS
Over the years, we have performed a number of refurbish, rebuild, replace and repair projects for customers who had no access to the original equipment supplier.
Contact NAO with details on your system and we will work with you to make your system operate like new.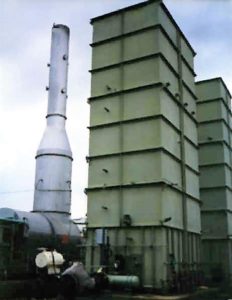 Below are pictures of a refurbished job NAO performed for a Landfill in Long Island – Replaced Headers, Refractory, Burners, Pilot and Control Panel.

"Before"
Photo — Combustion Chamber
Returned to NAO for Refurbishment
"After"
Photo of combustion chamber sandblasted,
painted and re-lined with refractory,
on its way back to service.
With over 100 years of experience NAO has earned a worldwide reputation for reliability and trouble-free performance.